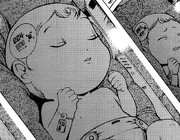 Design children are genetically engineered humans with super-human abilities in a certain area of expertise, ranging from weapon creation or politics.
Design Children
Edit
The Design Children project was proposed by the young scientist named Toujirou Osakabe a few years after the Great Battle of 2039. the idea behind the project was rather simple if very ambitious: if the tasks can't be solved by the humans of this time, then the humans that can do that should be created.
The idea was approved by Japanese government, however professor Osakabe soon started having seconds thoughts about his project - he was playing God; he was creating life, life full of significance and purpose. However, he was forced to continue his research, unable to quit or even die.
Originally, 109 Design Children were... initiated. However, only seven survived to maturity. In the anime, only Makie lived long enough to actually start working on her task - creation of the working Vibration Warhead Torpedo. In the manga, we see her 'brother' Makoto being the prime minister of the decentralized capital Sapporo, but the fates of other five Design Children are still unknown.
Known Design Children
Edit
Osakabe Makie - Her task was the creation of working Vibration Warhead Torpedo. She had completed this task before the start of the series at an unspecified time.
Osakabe Makoto - His task is leading the Northern region of Japan in these troubled times; his mission is still in progress.